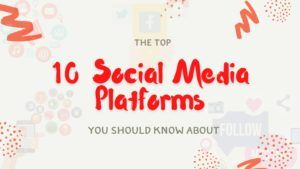 Top 10 Social Media Platforms
Let's face it, there's a lot of social media sites to keep track of, and it can be overwhelming for a new blogger or business owner. The right social media platform will save you time, maximize your brand reach, help you create better content, and engage with the right audience.
But as the number of social networks continues to grow, it can be difficult to select the right ones for your business. Maintaining a strong online presence is crucial to a successful business, so here's an overview of the top 10 social media platforms you should know about. Each has its own unique features and abilities, so use this as a guide when deciding which ones fit your business needs best.
Facebook is usually  the first social media site to come to mind when thinking of social media, and for good reason. 
It's one of the biggest social media platforms in the world, with over 2.2m monthly active users and it was one of the first to provide advertising options to businesses. 
Every company must have a  Facebook business page which they update regularly. Nowadays consumers expect all businesses to have an internet presence on the platform, and many of them also expect them to respond to their queries. So if you had to choose one platform for your business to use, choose Facebook.
Twitter is a social media site for news, entertainment, sports, politics, and more. It allows brands and users to communicate via short messages — also known as "tweets." 
Though the messages are limited to 280 characters or less, they can be powerful ways to market your business. What makes Twitter different from most other social media sites is that it has a strong emphasis on real-time information — things that are happening right now.
And with more than 336 million monthly active users, your business should be able to find your market niche within the social media platform.

LinkedIn is the best social media site for business-to-business marketing.
LinkedIn is now more than just a resume and job search site. It has evolved into a professional social media site where industry experts share content, network with one another, and build their personal brand. 
To that end, 92 percent of B2B marketers prefer to use the platform over all others and a whopping 80 percent of B2B social media marketing leads come from LinkedIn.
LinkedIn profiles are similar to résumés and instead of sharing personal updates, professionals share content relevant to their industry or career. For this reason, it's a great place to discover people to collaborate with or employ. Plus, you can use LinkedIn advertising to reach your target audience.
You may be thinking it is not a social media platform but YouTube is one of the largest sources of user-generated content online. And if your company creates its own content, it can be a great way to connect with those users. 
In addition to the views you get directly on the platform, you can also use YouTube to host videos to embed on your site. And considering how effective visual content is in engaging site visitors, this alone is reason enough to create an account. Moreover, YouTube is also often known as the second largest search engine after Google. 

Instagram is built around sharing photos and is the best social media for businesses who want to create photos and videos for their audiences. 
That being said, the platform is a great way to build your brand's identity. As a brand, you can have an Instagram business profile, which will provide you with rich analytics of your profile and posts and the ability to schedule Instagram posts using third-party tools. 
Instagram also offers advertising options for businesses, which can be accessed through Facebook. So, you're familiar with Facebook's ad management system, it's an easy transition to start running sponsored posts.
Pinterest is a social media site that acts as a digital pinboard. 
You can use these virtual pinboards to curate content in many different formats, such as images, links, GIFs, and videos and also create your own pins to share. 
As a result, Pinterest is where people go to discover new things and be inspired. It allows you to upload Single photos with short descriptions and a link. Also, its built-in shopping feature makes it easier than ever for businesses to promote their products on the network. 
You can also use rich pins to provide more context to a product, recipe, article, and app pins, and use their advertising options to reach more users. It's an easy way to drive traffic directly to your product pages and connect with potential customers.
Reddit, also known as  "The Front Page of the Internet" is  a social media site that offers users opportunities to interact with each other based on shared interests. 
It combines social news, web content, a forum, and a social networking hub. On this platform, users can share content, links, or ask questions in topic groups called subreddits. The best part is you can find a subreddit for nearly any topic.
You can use Reddit as a research tool to gain an understanding of what your audience is talking about, and then create content for them. In addition to research, Reddit also offers advertising options to help get your business in front of interested users.
Snapchat allows its users to post photos or videos that will remain published for 24 hours before disappearing. 
This is ideal for businesses looking to promote a timely event, such as a product launch or conference. Snapchat also lets you create custom, branded geotags to promote certain events in certain locations during a certain time period. 
Snapchat is mostly used by a younger audience making it ideal if your target audience is a college student. 
Tumblr is technically a microblogging platform and doesn't perfectly fit with the social media sites on this list, but it's still a valuable tool for reaching young users. 
The social media platform allows you to share text, photos, links, videos, audios, and more. People share a wide range of things on Tumblr from cat photos to art to fashion. And like all of the top social media sites mentioned on this list so far, Tumblr contains content on every topic, niche, and interest imaginable.
That being said, marketing on Tumblr can be a challenge if you're not familiar with the platform. This social media site particularly enjoys creative memes – so make sure to bake this type of content into your Tumblr content strategy.
TikTok is the world's fastest-growing social media platform. TikTok lets users share short videos for a variety of purposes. 
Quick tutorials, viral dances, and comedic skits can all be found on the video sharing app. The platform allows users to edit, share, and comment on short videos ranging from 3 to 15 seconds. 
It is available in over 150 countries and in 75 different languages. Along with sharing videos related to your business and collaborating with influencers, you can also take advantage of TikTok's advertising options for your business.
End words
We have barely scratched the surface with what we believe to be the top 10 social media platforms. Our list has focused on the long-standing companies who have changed the face of marketing forever. 
However, regardless of the size of the social media sites, it's most important to consider whether your brand's target audience is active on those social media sites. That said, larger social media sites, like Facebook, tend to cover a wide range of interests and topics, which makes them suitable for most brands.
If you need help choosing and marketing on the best social media platform for your business, you can contact Blue 16 Media. We provide quality digital marketing services to complement our SEO, & Web Support services including Google Ads, content creation, and more.
Search
Helping Your Company Come of Age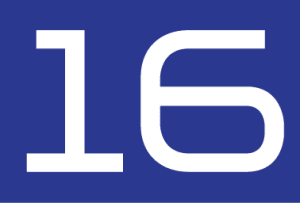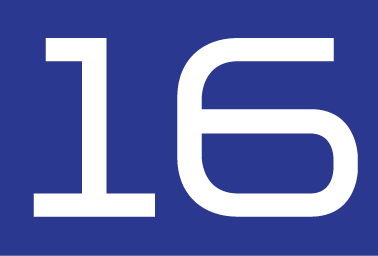 Newsletter